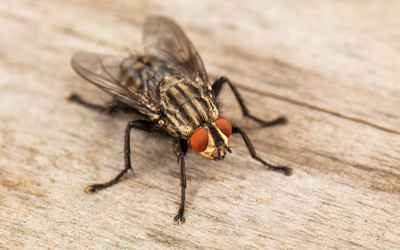 The most common fly species in Canada: house flies, horse flies, and bluebottle flies, are attracted by rotting organic material and excrement. Carcasses of animals such as dead rodents are the perfect breeding ground and flies are among the first species to lay eggs inside the corpse. A batch consists of up to 200 individual eggs. Combined with their short week-long life cycle, this results in massive infestation in a matter of days.

Spotting a few flying insects in your home doesn't mean you have a fly problem. Even if you do, the source of the infestation must be located before any measures are taken. If flies are a permanent sight around your property, there might be a food source nearby which allows them to breed. Search for maggots and rotten organic material near your premises. You may also observe clusters of dark spots on your walls—fecal matter of house flies.
How to Deal With Flies in the House
There is no effective prevention against flies other than sanitation and high hygiene standard.
1. Make sure there are no rotten leaves, animal carcasses, fruits, or food around your property.
2. Dispose of your bin on a frequent basis and avoid overfilling.
3. Seal off all sewage and make sure there are no spills or leaks.
There are a variety of methods to battle house fly infestation. Insecticides, sticky paper, and electronic fly zappers. You can also find countless homemade remedies online, although they are not very effective. Zappers won't do for bluebottle infestations. Sticky paper attracts them but since it doesn't affect their breeding ground, it doesn't stop them from reproducing. Approved pesticides and insecticides remain the most effective method to battle flies infestation.
Resistance
Scientists have reported some strains of house flies and bluebottle flies are resistant to the most common pesticides used against flies. Flies have demonstrated high tolerance levels to neonicotinoid, pyrethroid, and thiazine.
It is also important to note there is a possibility house flies carry antibiotic-resistant bacteria from animal farms to urbanized areas. This might be an answer to the question of how some bacteria strains develop resistance to medications at such rates.
What To Do in Case of an Infestation?
1. Remove all potential food sources—rotten organic matter, sewage, fruits, sugary substances, and greasy patches.
2. Keep pet food covered and put your food back in the fridge.
3. Cover your windows and keep the indoors of your property dimly lit. Leave a small, bright opening for flies to escape. Once they go outside, it is unlikely they will go back inside if there's no food source to attract them.

February 14, 2018

|

Categories:

Flies