Squirrel Control Services in Toronto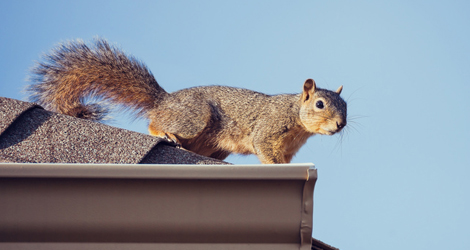 Are you in need of Squirrel Removal in Toronto & GTA? Do you hear an animal running sound around your attic or soffit? If yes, you may have squirrels in your home. When it comes to squirrel removal and control, Maple Pest Control is a household name for effective squirrel and chipmunk removal in Toronto, Vaughan & GTA. Squirrels may appear sweet, but they can create a lot of nuisance on your property. They can gnaw on your electrical wires and plumbing fixtures causing your damage of thousands of dollars.
If you want to get rid of squirrels in less time, contact our professionals. We are well-aware of the nature and life-cycle of these animals. They are small in size and can gain entry even through small cracks. It is really hard to prevent them with DIY methods. You would need professional help for complete and effective eviction of squirrels. Our professionals have the right tools and solutions to get you the lasting results.
What We Do for Squirrel Removal Brampton?
Our squirrel removal technicians can easily identify the existing and potential entry points of your home or office building. We will install a one-way door system to catch and relocate these squirrels safely. Maple Pest Control always implements safe and humane solutions to prevent squirrels from your property. If there's any damage caused by these animals, we can also get it fixed. With us, you get peace of mind knowing your property is in safe and professional hands.
We will get the job done right the first time. So far, we have successfully evicted hundreds of squirrels from homes and offices in GTA. We are not done with our services until you are completely satisfied with our solutions.
Why Choose Us to Handle Your Squirrel Removal Issue?
We stand behind all our pest removal service work.
We strive for 100% customer satisfaction.
Our professionals have years of experience.
We go the extra mile to get the job done right in a timely manner.
Our squirrel removal technicians can resolve all your issues quickly.
We provide full services from eviction to remediation.
We provide upfront and honest quotes to our clients.