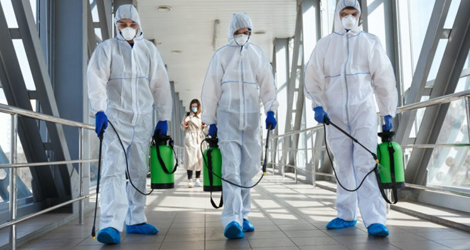 Sanitization Services in Toronto and GTA
We, at Maple Pest Control, are doing our best to control any kind of germs that can infect individuals and groups. We specialize in providing remedies for any kind of microbes that the eye cannot even see. Furthermore, we can help you by keeping you safe during this ongoing phase of COVID-19 by Sanitizing and disinfecting areas and things that fall within your reach.
Differentiating between Cleaning, Sanitizing & Disinfecting
Cleaning is the process of removing germs or dust. It is unable to kill the germs for good. Only the chances of infecting others are decreased. Sanitizing is also similar to cleaning but Sanitizing lowers the number of germs as per some health standards. The best one, and the most preferred type of staying safe is disinfecting. This kills the germs present on some surface by using certain chemicals. It may or may not perform a cleaning operation but reduces the spread of infection.
Our Services – Clean, Sanitize, and Disinfect
At Maple Pest Control, we offer the three services of cleaning, sanitizing, and disinfecting the objects that you are liable to come into contact with now and then. These can include objects such as Door Handles, Remote Controls, Light Switches, Telephones, etc.
Over the years, Maple Pest Control has acquired an industry reputation as the trusted name when it comes to effective treatments and control of pests and germs. We take prevention steps to ensure you won't have to deal with the same infestation in the coming years. We also provide benefits such as advanced equipment, competitive pricing, certified professionals, free estimates, and same day service.