Raccoon Removal Services in Toronto & GTA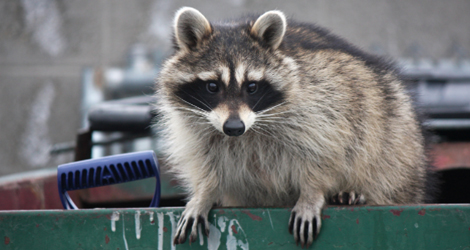 Are you lookin for Raccoon Control in Toronto? Raccoons are one of the adorable yet irritating animals that are commonly found in North America. They invade residential premises, including the attic and basement to keep themselves warm during the cold winters. They are responsible for damaging your property, tearing the insulation, chirping the wires and spreading contagious infections all over.
If you suspect an individual raccoon or family inside your home, call Maple Pest Control right away. We are a leading wildlife control company offering reliable and effective raccoon removal in Toronto, Vaughan & GTA. Over the years, we have managed to earn an industry reputation by utilizing humane methods that are safe on your family, pets and raccoons itself.
Why You Need to Raccoon Control Toronto?
Alike all other animals, raccoons are risked to attack humans, if irritated. They are dangerous creatures who try their best to enter inside a property. Since they are carriers of a number of diseases and infections, it is crucial to get them removed as soon as possible. Our team of raccoon control experts in Toronto & Vaughan are capable of handling mild to severe raccoon invasions in the least possible time.
Though raccoons are cute, they are the worst nightmare when it comes to damaging the belongings and property.
They invade attics to give birth to their young ones and to raise them in a warm, safe and cozy environment.
They create a lot of noise in the attic and crawlspace due to the footsteps, baby sounds and screeching sounds.
They ruin the health and hygiene of a family by causing clutter and leaving droppings and urine everywhere.
What did We Do?
At Maple Pest Control, we believe in humane raccoon control in GTA using eco-friendly sprays that are not at all harmful to health. Once you contact us for service, our team will reach your place within the shortest possible time in a fully equipped animal control van. Upon finding their place of habitat, we'll seal the possible entryways so that it couldn't escape. To make sure they won't return, we trap and relocate them in a far-off area. Our approach includes:
Inspection
Sealing
Trapping
Prevention
Control
Removal
Relocation
Proofing