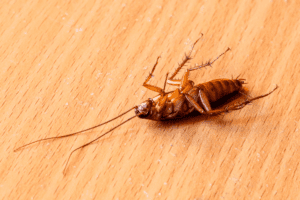 It's been a long day. You finally get to turn out all of the lights and climb into bed. You go off to sleep as you settle into the coziness of your mattress, engulfed by the silky sheets on your skin, only to wake up a few hours later feeling extremely thirsty.   You get up and go to the kitchen for a glass of water. When you switch on the light, you notice them. Cockroaches! They run back to their hiding place as soon as the light strikes them, but it's too late. You are now aware that cockroaches exist in your home, which is unacceptable. Only way to get rid of them is to try these home remedies from experts in cockroach control in Milton. 
Cockroaches are harmful and invasive pests that you do not want to share your home with. Water bugs, crickets, and several beetle species are all mistaken for cockroaches. Cockroaches have oval-shaped bodies that have been flattened. They have six spine-covered legs and antennae that are as least as long as their bodies, if not longer.
Are Cockroaches Harmful?
Cockroaches are filthy creatures that pose hundreds of new health hazards to both humans and pets. They travel through drains, sewers, rubbish, and feces before entering your home. They have the ability to spread a wide variety of bacteria, parasites, viruses, and human diseases that can cause dysentery, diarrhea, and salmonella infection. Cockroach feces and shredded skins can cause skin rashes, asthma problems, and allergic responses in humans, particularly small children.
Home Remedies to Keep Cockroach Control for Your Home:
This is a typical example of the fish and baits strategy. A mixture of baking soda and sugar is an efficient technique to stop the spread of these pests. Cockroaches are attracted to sugar, and baking soda eliminates them. All you have to do is find their hiding places and sprinkle this mixture in the corners.
Crush some bay leaves and put them in your cupboards or other places where you see them frequently. Alternatively, you can boil some leaves and spray the resulting liquid into diseased areas. This Indian strategy should keep them at bay. One of the simplest ways to get rid of cockroaches forever home remedies is known to efficiently get rid of cockroaches.
Peppermint oil is one of the powerful essential oils for cockroach control  Spray the infested regions of your home with a mixture of seawater and peppermint oil. After a period of constant application, you will notice a difference.
Over centuries, neem has been utilized as a natural cure for a lot of things, including pests. Neem oil and powder include active ingredients that can kill cockroaches. To use it as an oil, combine a tiny amount of neem oil with water in a spray bottle and spray it in areas where you've seen these pests. If you use neem powder, however, all you have to do is sprinkle it in cockroach-infested areas at night and repeat the process in the morning. Using a handful of neem leaves and water, make a paste. Strain the water and pour the liquid into a spray bottle. At night, spray the mixture on the affected regions. This is one of the most popular home cures for getting rid of cockroaches.
Keep a few cucumber slices in a tin jar and leave them aside. The combination between cucumber and tin jars might produce an unpleasant odor that cockroaches dislike. 
Conclusion
These home cures are inexpensive, but if you have a severe infestation, you should seek expert assistance. A professional pest control company like Maple Pest Control Company in Milton that can help you get rid of roaches in your house by using powerful pest-killing remedies. If you have pets and children, make sure to request a safe alternative for small hands and paws. With professionals handling the company, you would ensure an effective cockroach control in Milton.