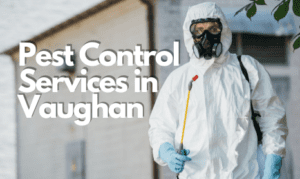 Undoubtedly, to buy a house is indeed a vital as well as major purchase in one's life. Especially when property prices are at an all-time high rate in Vaughan. It is very important to make sure you are buying a house that does not have any kind of pest problem, and only a pre-purchase inspection service can help you with it to save a long-term cost and chaos. The presence of pests in a home or business can have detrimental effects on the health and safety of those living or working there. Professional Pest Control Services can be important as they work to rid these unwanted pests from your property as soon as possible, reducing the risks they present.
A pre-purchase pest inspection is an essential part of any home purchase. After all, you don't want to buy a place that's been overrun by creepy crawlies around, either knowingly or unknowingly! But how do you know when your house needs a pest inspection? And why does it need one in the first place? We're going to walk you through what a pest inspection involves and discuss what you can expect from this type of service.
An inspection is essential if you plan to spend a specific amount of money on materialistic products but it's a waste if it's going to get destroyed eventually. So, when you are thinking of buying a property, it may seem that it is in excellent condition but it's wise to opt for Pest Control Professionals that would assist you with thorough pest inspection to be on a safer side. Maple Pest Control is the Best Pest Control Services provider in Vaughan that can help you to know the condition and serve you with an appropriate solution.
For example, if cracks appear in the eyed property or on the ground floor or ceiling of the eyed property, then you would also have to contribute to repairing the structural damage. So better you should invest in the inspection first to go step-wise.
To do that, there are a number of different property pest inspections that you will have to perform prior the purchasing process to make sure you are making the right decision. 
What type of inspections does Maple Pest Control Services provide under evaluation?
Cladding and brick

Accessories

Roof structure

Roof cover

Built-in cabinets

Quality of tiling, plastering

External and internal doors

External walls

Internal walls

Floors and ceilings

Balconies, patios, and terraces

External and internal windows

Stairs
On which factors does the pre-purchase house inspection by Pest Control Services cost?
Level of pre-purchase inspection details.

Location of the property.

Size of the property.

The complexity of the structure.
A thorough pest inspection service easily detects potential risks as well as pest defects. With the regular inspection certification or local and environmental factors must also be taken into account, such as inspections.
When you are inspecting a building, it also gives you leverage when negotiating the purchase price because of these costs.
Whenever you decide to perform a pre-purchase inspection before finalizing the deal on any property, you have to enter the contract with your eyes wide open keeping this possible pest situation in consideration.
Lastly, whether it is considered a pest inspection of your to-be house or workplace, you have to go with a company with certified professionals that provides a range of worthwhile Pest Control Services. Maple Pest Control is at your service if you are looking for a house to purchase. 
We are here to hear you. Give Us a Call: 416-520-8575