Trusted & Reliable Pest Control In Thornhill, Ontario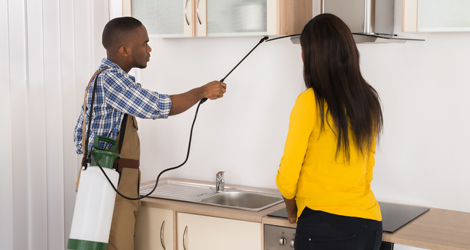 No one likes unwanted visitors, and it's a whole different story if they arrive as annoying bugs. No one wants their house to be overrun by a horde of pests like rats, termites, or cockroaches. Along Toronto's northern body, centered on Yonge Street and in the immediate south of the City of Richmond Hill, Thornhill is a suburban area in the Regional Municipality of York in Ontario, Canada. To get rid of the various pest problems, it is advised to hire the best pest control in Thornhill, Ontario.
Being a suburban area with people traveling to Toronto or the GTA for work, Thornhill's homeowners face residential pests and country living pests. It can be easily removed using pest control in Thornhill from a reputable company like Maple Pest Control. Carpenter ants are widespread in Thornhill because of the city's older homes and large trees. Due to the abundance of parks and ravines nearby, rodent and wildlife problems are frequent. Carpenter bees, which attack older wood constructions, have recently drawn much attention in Thornhill.
No matter what kind of pest problem you are experiencing—flies, pine seed bugs, beetles, mice, rats, spiders, wasps and hornets, carpenter ants, earwigs, ticks, bed bugs, or cockroaches—we at Maple Pest can help you find the cause and getting pest control in Thornhill per your requirements. Nobody wants potentially disease-carrying pests to be a problem on their property. Our goal at Maple Pest is to keep you and your family safe. We provide Thornhill residents with unique, cost-effective, and environmentally responsible pest control services in Thornhill and surrounding areas. We promise complete satisfaction and complete peace of mind with our pest treatment.
Delivering The Best Pest Control In Thornhill With Quality Assurance
Do you want to get rid of unwanted pests from your space? It's time for you to use pest control in Thornhill, Ontario. As a trusted pest control service provider, we are committed to eliminating the different types of pests from every corner of your space.
Maple Pest has been serving the people of Thornhill and nearby areas with a wide range of pest control services, including Ant control and removal, bed bug extermination, rodent removal, etc. 
Whether you need pest control in Thornhill for home or commercial space, we can be your trusted Pest control partner. We have licensed pest exterminators having proficiency in controlling and removing the different types of pests. Our advanced techniques and equipment leave no space for pests.
Pest Control Services That Promise Your Safety
The risk of pest infection in Thornhill and nearby areas of Ontario increases due to unhealthy life practices. As a result, home and business owners often complain about the pest problems that damage their property over time. It is the reason why most people search for the best pest control in Thornhill and nearby areas. Whether it's a spider, mosquito, or cockroach, timely pest control can eliminate the risk of infection. 
You must contact the best pest exterminator in Thornhill for quick assistance. A well-trained pest control exterminator can professionally eliminate pests from various corners of your space. At Maple Pest Control, we help residential and commercial clients by providing pest control in Thornhill and surrounding areas via different forms of services:
Carpet Beetle Removal & Extermination

Sanitizing & Disinfecting Property
Apart from these, we also offer other pest control services in Thornhill to help you completely eliminate pests.
Experienced Pest Control In Thornhill To Cater For Your Every Need
Maple Pest Control is well aware of the ever-evolving needs of residential and commercial clients regarding pest issues. With the increasing human population, the cases of pest infection have surged in Thornhill. It is a severe concern for every person as untreated pests can cause various health issues to family members, including children and pets. Professional pest control in Thornhill is its best solution that guarantees 100% pest control from different corners of space.
At Maple Pest, we are committed to delivering quick, reliable, and convenient services per individual needs. We are the best pest extermination company in Thornhill and nearby areas. Whether you want to eliminate ants, beetles, cockroaches, or animals from your property, we can help you with diverse pest control services.
You can request a free quote with us based on your residential and commercial property pest control requirements. Our licensed pest exterminators will eliminate every pest issue without damaging your space.
Count On Our Environmental-Friendly Pest Control Solutions
Having pest issues is natural and related to the unhygienic maintenance of spaces. We can fix it with our vast range of pest control services which are environmentally friendly. All the chemicals and pesticides we use here are environmentally friendly. Our pest exterminators have years of experience providing pest control in Thornhill and nearby areas.
When requesting the service, we assure you of our team's procedure to eliminate the different pests, including mosquitoes, bees, cockroaches, etc. At your request, we assess your property and come up with the right solutions. Over the years, Maples Pest is the trusted pest control in Thornhill for residential and commercial purposes.
Our pest control services are environmental as well as pocket-friendly. Ready to eliminate the pest completely from your space?
Why Choose Maple Pest Control?
Our team offers a full range of pest management options, regardless of your pest control needs. We take great pleasure in providing top-notch services and unrivaled levels of client support. The high quality of our work and the affordable costs we offer are unmatched by any other pest control in Thornhill. 
This is primarily a result of our continual attempts to develop new strategies for offering discounts to customers while keeping our prices at a level that is reasonable to all. Below are some of the points supporting Maple Pest.
Safety & Hygiene
You can feel secure knowing that we will promptly get rid of your pests when you hire Maple Pest professionals. We are fully aware of the procedures and effective ways to eradicate pests from your house by offering best pest control in Thornhill.
Proper Understanding Of The Pest's Life Cycle
Our experts know more about these irritating organisms. By doing so, we can comprehend the issue more clearly than the average person, which aids in the bug's eradication and ensures everyone's safety. In addition to providing superior returns on investment, we concentrate on addressing the fundamental cause.
Lowering The Chances Of Recurrence
You'll observe that infestation problems only worsen when using DIY methods. The best pest control methods are accessible at the most affordable price when you call the experts at Maple Pest. Our professionals always apply the most potent pesticides and chemicals to eliminate the pest permanently.
Use Of The Latest Technology
Pest control techniques are continually being improved. Our professionals know the most reliable techniques and how to apply them successfully. Don't struggle with antiquated pest control techniques you read about online. Just Trust Us for the professional pest control in Thornhill.
Cost-effective
As opposed to DIY pest treatment, hiring a professional pest control service in Thornhill is frequently more economical. Most do-it-yourself remedies are ineffective compared to expert techniques and won't solve the issue. Our professionals will save you money in the long run as we have the skills and equipment required to execute the task correctly.
So, if you need an estimate for pest control in Thornhill area, have a persistent ant infestation, mice, or any other pest control issue, call the experts at Maple Pest immediately. Every aspect of pest eradication is something we work on, providing the best services to our clients. We are always delighted to answer any questions they may have.  What are you waiting for then? Give Us a Shot!