Quick & Secure Rat Control In Toronto, Ontario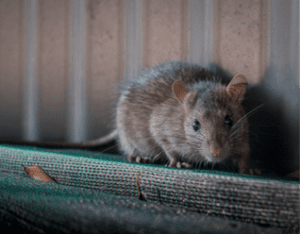 Are you struggling to control the rats and mice on your property? Leave all your worries to Maple Pest Control, people's first choice for rat control in Toronto and nearby areas. It is hard to keep rats out of buildings. For example, they can squeeze through holes as small as one centimeter, while rats can fit through as large as quarters.
For effective rodent control, looking for a professional rat exterminator in Toronto that seals every crack and void and ensures that the place has proper drainage is essential. You should also check gutters and diverts to direct water away. That is why hiring rat control services in Toronto is vital to remove the rat and mice permanently.
What Problems Do Rats Cause?
Toronto has many rats, which can be problematic in more populated areas. Due to their big size, they can get through walls and holes to access shelter and eat food. However, you can get rid of rats by taking rat control in Toronto. Maple Pest Control is available 24/7 to help you with rat control service.
It is not something you will appreciate if someone chews on your furniture and leaves droppings everywhere or chews the electric wires in your walls to cause damage to your heating and cooling systems. Maple Pest, a rat control specialist, is essential as rats carry many diseases.
Benefits Of Getting Rat Control & Removal Service In Toronto
Rodents can be a nuisance and can chew the wires and furniture to a large extent. Rats and mice can enter the home via different means, which include doors and holes. If not treated on time, rodents are the main cause of various infections and diseases. That is why contacting a company like Maple Pest, which offers the best rat control in Toronto, is essential.
It is a perfect rodent removal service in Toronto & GTA for those who don't have expertise and time. Here's why you should need rat control service from a licensed rat exterminator in Toronto:
Quick & Effective
When performed manually, the rat control process can be a time-consuming process. However, licensed rat exterminators at Maple Pest use advanced techniques while providing rat control in Toronto and its nearby areas.The process is quick and saves you time. It includes the in-depth inspection of your space and then the removal of rats and mice using pest control chemicals.
Reduce Transmission Of Infection
For any home or business owner, the biggest concern is the transmission of infection and disease caused by rats. You can get peace of mind by hiring rodent exterminators from companies that provide professional rat control in Toronto and nearby areas. Maple Pest allows customers to request free estimates online.
Protect Property From Damage
Over time when a rat creates its space around furniture or wall, it is likely to damage the property by continuously eating it. Apart from this, rodents also cause food wastage and become a significant source of food poisoning.
When you search and hire the best rat control near me in Toronto, experts remove the rats from different corners and protect your property from getting damaged.
When you hire our rat exterminator for your residential or commercial rat control in Toronto, you will get various benefits like safety and quality assurance.
What We Do?
Maple Pest Control is the best rat extermination in Vaughan, Mississauga and throughout GTA. We can help you with rat control in Toronto for your home or business property. If rats start to multiply, they can become a severe problem. You may have heard the constant creepy sounds of rats running and scratching in your home or restaurant. You may also have to worry about the rat droppings that can cause breathing problems. If you are careful, you may find them under shelves, on walls, and in cabinets. But, we suggest that a professional handle this.
Maple Pest Control- Solving All Your Rodent Control Problems
Maple Pest Control has years of experience providing top-notch rat control services in Toronto and the neighbourhood. Over the years, we have solved rodent problems with our advanced rodent control services. Our customer-centric and environment-friendly approach makes us the best rat exterminator in Toronto and surrounding areas.
Apart from rat control, we also provide other pest control services like Fly control and extermination, Bed Bug extermination, and more. We have a well-trained and licensed team who use eco-friendly products while offering rat control in Toronto. No matter what type of rodent you have in your resident or business property, Maple Pest Control has advanced rat control and removal solutions customised to your needs.
Hire Toronto's Best Rat Exterminator To Remove Rats From Your Property
If you decide to get rid of stubborn rats and mice, it's time to count on Maple Pest, the best rat control in Toronto. We understand the frequent issues residents and commercial property owners face due to rodents. Whether it's the risk of infectious disease caused by rats or furniture damage, every issue is painful.
That's why we target the ever-evolving rodent control needs of the people of Toronto and nearby areas. As the best rat control in Toronto, we are committed to controlling and removing rats from homes, warehouses, manufacturing units, and more. When you search for the best rat control near me in Toronto, our well-trained rat exterminator visits your property to assess the rat damage and strategically remove the rats.
Once the rats and other pests are removed, our team disinfects your property with government-approved pest control products. We also provide you with instructions and tips on protecting your property from rats in the future.
Trust Locally-Owned & Operated Rat Control In Toronto
Maple Pest Control will treat each situation differently depending on the type and location of nesting areas, infestation level, and severity of the rat control in Toronto. After inspecting your house or office, we will arrange the most reliable way to deal with your rat problem. We may use traps and products in certain situations to eliminate the rats from your home.
As the trusted partner to eliminate rats, beetles, mosquitoes, squirrels, and more from resident and commercial properties, with over 3 decades of experience, we served thousands of home and business owners with excellent pest control services in Toronto. Due to our customer-centric approach and advanced techniques, we emerged as the best company for rat control in Toronto and nearby areas.
Besides Toronto, our rat exterminators offer rat control and removal services in Brampton, Alliston, Richmond Hill, Thornhill, and other cities. With your one call at 416-520-8575, our licensed rat exterminators will reach your location and provide quick rat removal service.
Here's the reason to count on Maple Pest for rat control in Toronto:
Fully-licensed rat exterminator

Different pest control services

Trusted by the people of Toronto

Free estimates

Use eco-friendly products